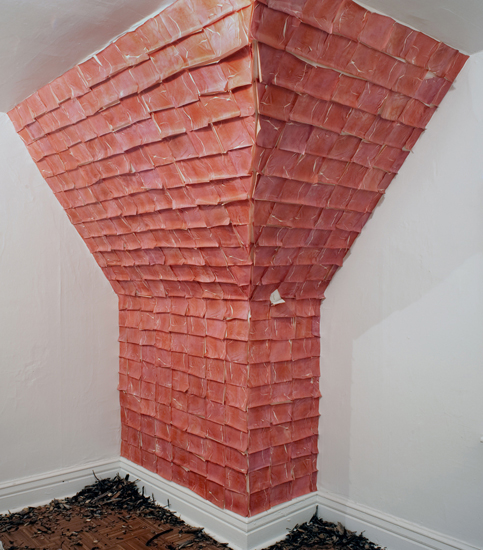 Transience and Resistance
Site-specific installation
2010
In the spring of 2010, I began to work within the attic of an old house. At the time, I was studying an essay by architect Juhani Pallasmaa, who noted that the "materials and surfaces [of fragile architecture] have a richly complex language of their own that evolves and changes over time." He argued that buildings made out of sensitive matter develop a texture as they age: a presence that engages visitors in a multi-sensory experience.
I wanted to investigate this idea further and was already exploring the physical properties of the Polaroid print. This led me to work intuitively through a manual process of microwaving, scanning, printing, ironing onto rice paper, and then washing hundreds of Polaroid surfaces, as though running them through a rigorous life cycle. I then installed the delicate prints on an inside wall of the attic. Not only was I stimulated by the "complex language" of the fractures in the walls of the building that surrounded me, but I also experienced a unexpected sensation: the aging plaster walls gave the adjacent skin-like membranes a unique expressive power.
Both architecture and photographic materials are changing with time: eroding and moving towards futility. However, there is a sentient quality about both surfaces – a fragility that speak pleasurably of memory and the human condition. My installation communicated duelling messages. It resisted a move towards futility, while also accepting the inescapable passing of time.